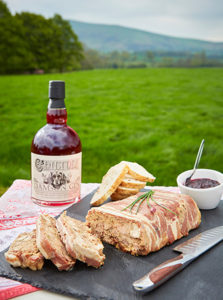 Chilton Damson Gin was started in the 1970s and since then production has grown and our bottles can now be found in all corners of the UK and parts of Europe.
The vital ingredient for our Damson Gin is the Shropshire Prune Damson which was widely grown in this region early last century, mainly to produce dye used for the carpet and glove industry in Kidderminster and Ludlow.  Sadly many of the old orchards have been grubbed up over the years, but thanks to the hard work of Slow Food UK the Shropshire Prune has been included in the Slow Food Ark of taste and consequently there have been new orchards planted.   We have our own orchard of Shropshire Prune going in here in the autumn.
The other vital ingredient is of course the London dry gin we use. This is distilled  for us by Greenalls in Warrington, which is the oldest distillery in the country and now has a highly regarded lady distiller. Time is of the essence when producing Chilton Damson gin and we take pride in the fact that our fruit is steeped in the gin for 8 months which gives a much smoother, fruitier end product than the more commercially made brands.